In April 2009 Dr. August and her staff opened the doors to their office building. The office is located at 2401 S. FM 51, Suite 100 just down the road from Wise Health Systems in Decatur, Texas. The office has a total of ten exam rooms, a consultation room, and a larger square footage than the previous location. A large comfortable reception area is divided into two areas, one for sick patients and one for well patients. The two areas are separated by a large aquarium that keeps children and adults of all ages entertained and relaxed. Puzzles, educational toys, and a small library also help any wait time pass quickly. The physicians have installed a "Kid Care TV" education to help keep parents informed and up to date on different pediatric topics.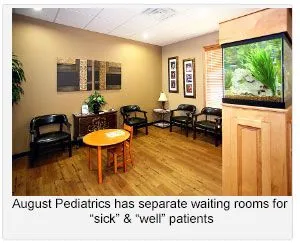 The entire office is tastefully decorated in warm earth tones to help patients forget they're at a medical facility and instill a sense of "medical home". Each one of the exam rooms has a different child friendly theme and bright colored walls. These include a space room, rodeo room, sports room, safari room, boat room, and many others. Patients will sometimes request a "favorite room" and the friendly nursing staff will do their best to accommodate requests. Bathrooms are also decorated to help put patients at ease.
Our providers utilize Electronic Medical Records, which allows for more efficient patient care and keeps patient wait times to a minimum. Friendly and knowledgeable nursing staff answers medical questions during clinic hours and the providers offer paging service during evenings, weekends and all holidays. Prescriptions are electronically submitted to local pharmacies, ensuring that patients get their medication as quickly as possible. The staff can perform many common lab tests on site and know the results usually within 15 minutes (flu screens, strep throat screens, RSV, Covid screens, urine testing, etc.) The office is connected to the Wise Health Systems Radiology Department's network, allowing our providers to personally review patient x-rays and quickly develop treatment plans.
Dr. August is a Board Certified pediatrician. This means she has completed vigorous pediatric residency training and has passed testing required by the American Board of Pediatrics. As a Fellow of the American Academy of Pediatrics, Dr. August must stay current on the constantly evolving world of pediatric medicine and research. This is important to offer our patients the most up-to-date treatments for both common and rare illnesses.
Our providers see children from birth through the teen years, for both well and sick visits. They are committed to providing excellent care for children with complex medical issues, including allergies, asthma, congenital heart disease, diabetes, metabolic disorders, ADHD, Anxiety, depression, etc. They also offer free prenatal consultations for expectant parents.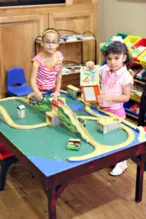 All current vaccines are available for patients, both those required by area schools as well as those recommended by the American Academy of Pediatrics, for patients with private, state funded and no health insurance. Several combination vaccines are available to help minimize the number of shots given. In the fall, flu vaccines are offered to all eligible patients and their parents.
Our providers have combined medical experience of over twenty eight years in caring for pediatric patients. They have been treating the children of Wise and surrounding counties with care, compassion and love for many years and look forward to many, many more.
If you have any questions or would like to make an appointment, you can reach their office at (940) 627-8044.